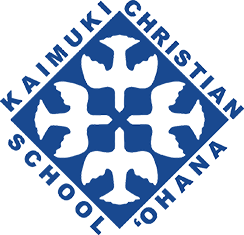 Welcome to KCS
Aloha!
Thank you for your interest in Kaimuki Christian School. We have 309 students enrolled in Preschool through 12th grade for the 2021-2022 school year. In May, KCS celebrated its sixth graduating class, honoring the ten members of the Class of 2021 in a truly unique and memorable way.
To achieve our mission, Kaimuki Christian School incorporates into its educational program Biblical values and perspectives through teaching and example, curriculum, morning devotions, and weekly chapel services. We believe that solid teaching and curriculum, a caring environment, cooperative living, creative activity, and a sense of achievement are important components of a child's education. We want our students to be life-long learners who reflect self-discipline, responsibility, integrity, and service to others.
KCS provides a quality educational program that emphasizes the core academic subjects (reading/writing, mathematics, social studies, and science). These subjects are complemented by an enriching offering of computer, music, art and PE. At the secondary level, electives include video production, life skills, drama, instrumental music and chorus. Chinese is introduced at the preschool level and is the foreign language offered in middle and high school.
Our fine staff and diverse student body are united by a common commitment to our mission, our philosophy of education, and our strong sense of 'ohana. If our program is in harmony with your desires for your child's education, we invite you to schedule a tour of our campus and fill out an application.