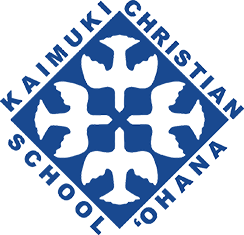 Mission & Vision
Mission
"Our mission is to bring glory to God by nurturing all children who can significantly benefit from our program by educating each child to his/her God-intended potential."
Vision
As a ministry of Kaimuki Christian Church, our vision is to be a school that draws families into God's presence where they experience Jesus' love, acceptance, and forgiveness, and are equipped spiritually, intellectually, emotionally, physically, and socially to live for His purpose.
Core Values: Fruit of the Spirit
As we learn and grow in our relationship with Christ, we begin to exhibit characteristics that reflect His work in our lives. These nine characteristics of the Fruit of the Spirit (Galatians 5:22-23) are the core values we embrace as a school community.
Love – unselfishly consider another's needs greater than one's own
Joy – cheerful, gladness of heart, and contentment no matter what the circumstance
Peace – having a sense of calmness, creating harmony, and having the peace of God
Patience – lack of complaint, ability to wait, and a hopeful attitude that resists defeat
Kindness – thinking of others, readiness to help, and goodness in action
Goodness – holiness in action, a Spirit-filled person who will selflessly act
Faithfulness – trusting God and His promises even amidst troubles
Gentleness – quiet inner strength while serving others, treats others carefully and tenderly
Self-Control – deciding to do what is right no matter how one feels