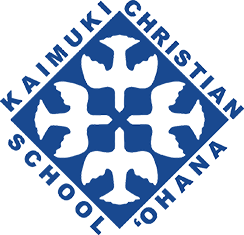 KCS News & Happenings
Posts Tagged "science"
January 22, 2020
Why computer science? According to Code.org, the answer is a matter of foundation, as the nonprofit organization believes that "every 21st century child should have a chance to learn about algorithms, how to make an app, or how the internet works." Mrs. Takahashi, middle school science teacher, has embraced that vision, integrating the innovative curriculum produced by Code.org into her 7th grade science classes. She is part of the year-long Code.org Teacher Professional Learning Program, which included two weeks of classes last summer and quarterly workshops during the school year.
Seventh graders are working through the Computer Science Discoveries curriculum on Code.org. Earlier in the year, students were introduced to the topic of computer science and HTML. Currently, they are learning the programming language, JavaScript, as they work toward programming animations, interactive art, and games. For the unit final project, students will design their own game related to the earth science concepts they are studying. At the end of next month, students will tackle another coding language, Python.
As the units have progressed, students are learning to write code from scratch, building their excitement over the new skills they are acquiring. Students have also begun to think of potential careers, expressing interest in various jobs in computer science fields. With an increasing demand for computer/technology jobs, Mrs. Takahashi understands the importance of equipping students with these foundational skills. She also believes that "learning computer science is a fun way for students to increase problem solving and critical thinking skills."