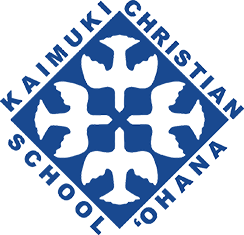 KCS News & Happenings
Posts Tagged "2021-22 at KCS"
April 08, 2022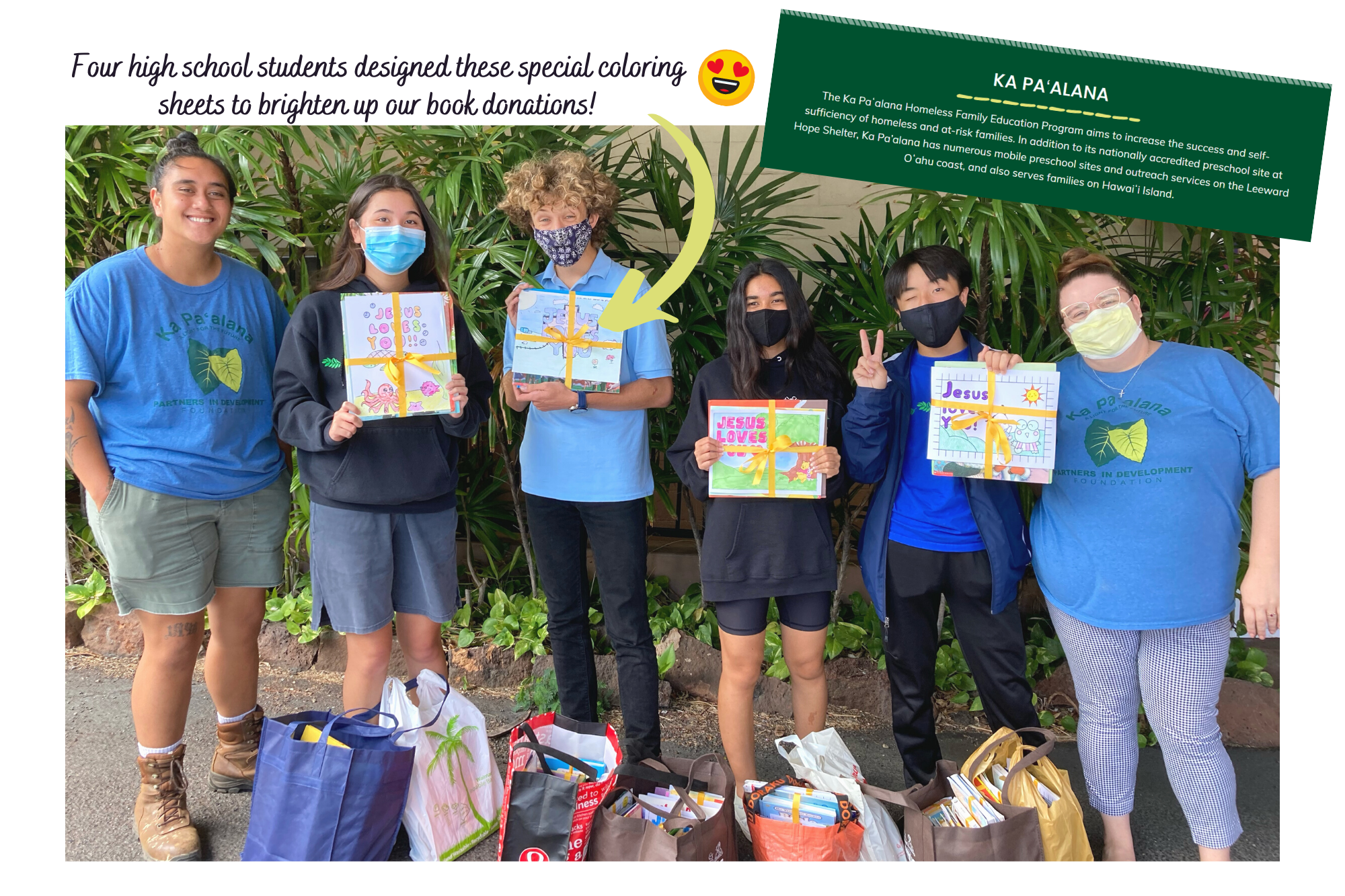 Thanks to the generosity of the KCS 'ohana during last month's Preschools Supplies Drive, the Student Council blessed Ka Pa'alana homeless preschool families with 190 children's books! On March 31, a team from Ka Pa'alana's Malama Mobile outreach team met with Student Council officers (photo above) to pick up the bags full of donated books. Before Covid, high school students had the opportunity to serve alongside Ka Pa'alana's staff at the Waianae Boat Harbor during camp. Since our students could not minister in person this year, they decorated cards and wrapped the books to make our gifts even more special. Please pray that the families will know how much Jesus loves them!
April 01, 2022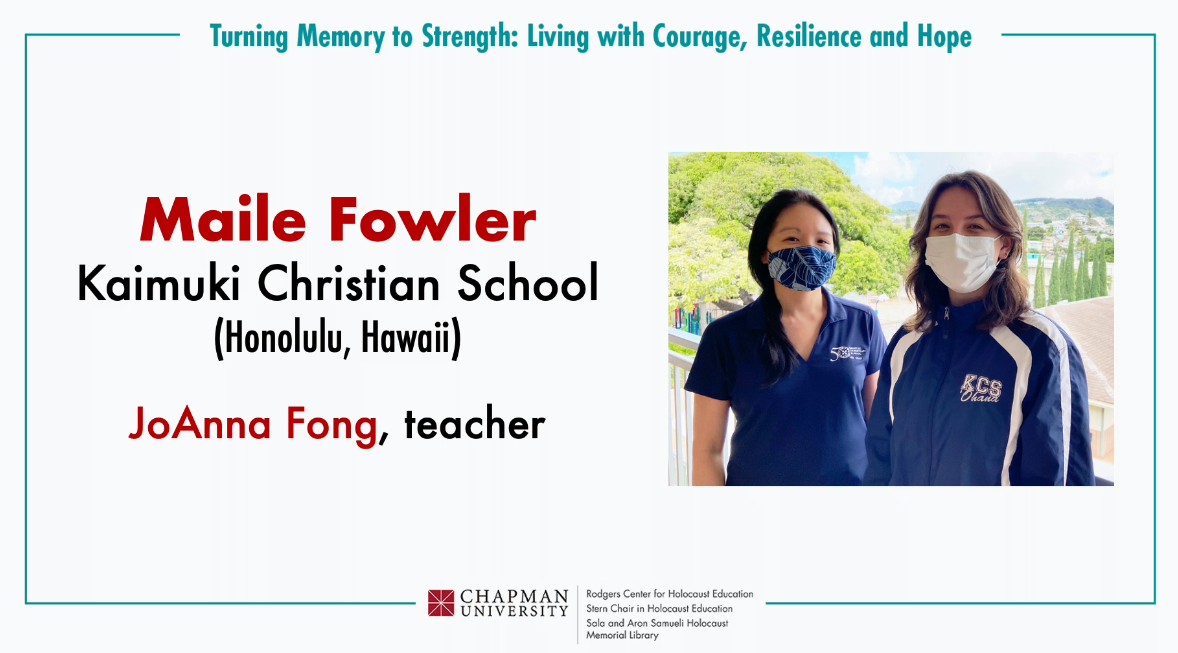 Through a powerful poem expressing a Holocaust survivor's story of "conquer[ing] unbelievable odds," Maile Fowler '22 earned 2nd place in the high school poetry division of the 23rd annual Holocaust Art and Writing Contest. The Rodgers Center for Holocaust Education at Chapman University, the 1939 Society, the Samueli Foundation, and Yossie & Dana Hollander sponsor this prestigious international competition. This year, the contest drew entries from 258 registered schools and thousands of students from across the U.S. and eleven other countries. Maile's recognition as a finalist is the second for KCS, following Emily Kuwaye's '19 winning poem in 2018.

For their prompt, contest participants identified a part of the survivor's testimony that was "a source of courage, resilience, or hope" as the survivor moved forward in life after the war. Maile's poem, "Hate Will Never Win," voices Celina Biniaz's inspiring story to combat and eventually defeat the fear, hate, contempt that once lingered in her heart. Maile credits her 3rd quarter European Literature curriculum, in which students read and studied Night and The Hiding Place, for providing the context from which to better understand what Ms. Biniaz endured. Maile's poignant poem utilizes imagery and figurative language to build to her final insight.

A photo of Maile and Literature Teacher Mrs. Fong (above) was shared during the live stream presentation of the awards ceremony held on March 11 at Chapman University. When reflecting on her 2nd place recognition, Maile acknowledges, "In a time where I am constantly searching for my talents and gifts, it is nice to see, tangibly, what skills God has given to me." The process of composing the poem also made a profound impact on Maile. As she dove "deep into the words" through her writing, she experienced a new appreciation and insight into the power of courage and forgiveness that resonates throughout Celina's story. Congratulations, Maile, on your award-winning poem and perpetuating the legacy of Celina Biniaz!
September 03, 2021
Have you ever been utterly tired, and at some point, felt defeated this past year? Perhaps the strenuous COVID circumstances hit you hard, and you were working through physical or mental health issues? Did the statewide quarantine cause extreme fatigue, or have you felt very isolated from your loved ones?
Throughout this past year, I have been reminded of the Jewish people's return from their exile in Babylon. They laid the foundation for the temple but unfortunately ran into hard-pressed times and let the foundation sit idle for 16 years. Depressed and lacking motivation, the Jewish people doubted God's presence.
God used prophets, such as Zechariah, Haggai, and Malachi, to remind His people that they were not meant to complete the temple alone. Zechariah received several visions from the Lord, and in one of those visions, the Lord delivered a key message: "This is the word of the Lord to Zerubbabel: 'Not by might, nor by power, but by my Spirit,' says the Lord Almighty." (Zechariah 4:6a)
Just as the work of rebuilding the temple could only be accomplished with God's Spirit, we need to remember that God's Spirit is within us and works through us; we are HIS vessels. When God calls us to a purpose, His Spirit is prevalent and equips us to fulfill our purpose.
Although our everyday circumstances are unlikely to completely return to "normal" pre-COVID times, we must remember that God continues to work, even in the midst of our trials. His strength and provision powered us through this last year, and He will continue to remain faithful and carry us through this school year. As we trust in His faithfulness, we see unexpected blessings arise from the uncertainty.
I want to encourage you to continue remaining faithful and to trust that His Spirit will guide us through this school year. Looking at our logo, I am filled with a sense of pride and optimism, knowing that our 'ohana is equipped for a rich and rewarding year. As a reminder of the Lord's strength and goodness, He gave me this scripture as the theme verse for the year: